Gyumri what to see
Gyumri is undoubtedly one of the oldest cities in Armenia. It stands out favorably among other Armenian cities with its ancient religious buildings, beautiful places, interesting historical facts, as well as magnificent architecture of hoary antiquity.
There is an opinion that this city is great for people who like to go back to the past, as you can also find ancient settlements near it. These are, for example: Arich, Marmashen, Lmbatavank and others. In these villages, the sculptures, ancient buildings, and churches that tell about the difficult fate of the Armenian state are treated with great trepidation.
Gyumri Freedom Square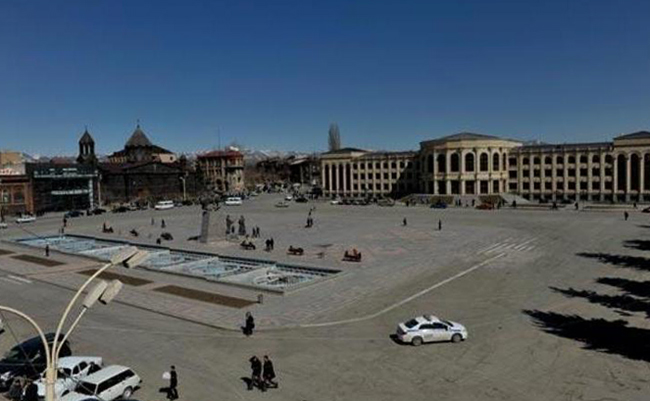 Freedom square is a popular spot for locals and tourists alike. Tourists who do not know what to see in Gyumri can first go to this square. And this is not surprising, because there are interesting old churches of St. Hakob, Surb Amenaprkich, the virgin. In addition, there are partially destroyed and renovated buildings that suffered from the terrible Spitak disaster.
Big Fortress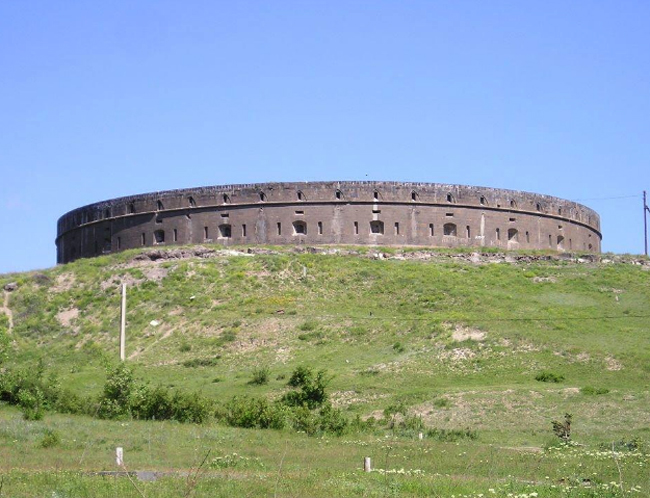 This fortress is also called the «Black fortress«. It is an old architectural monument in the Armenian Gothic style. This eerie building contains the events of a terrible military conflict that occurred between Turkey and Russia in the 70s of the XIX century.
This fortress is a poorly studied place, so in view of this, archaeologists are going to conduct earthworks there for scientific purposes,and it is also planned to restore this building by specialists. Of course, all this will be possible if the owners of a Large fortress agree to it. In addition, it is necessary to say that at the moment it is not possible to visit this ancient monument, because it recently found its owners, and therefore everyone is not allowed to go there.
Surb Amenaprkich Church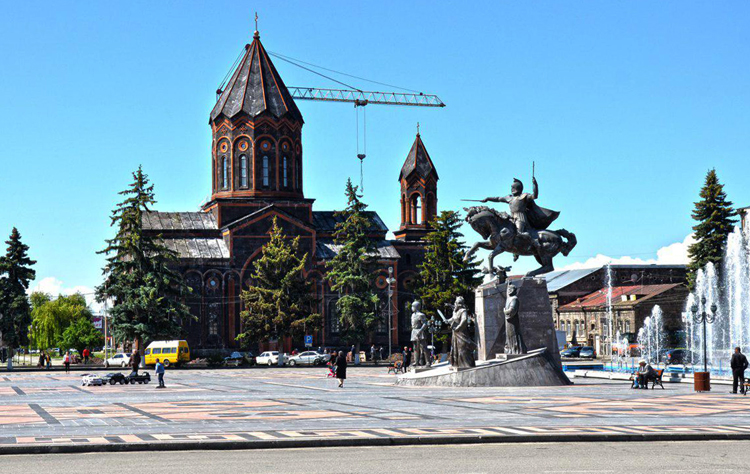 Another significant place in Gyumri is the temple called Surb Amenaprkich (translated as «all-Saviour»). It is considered a business card of the city in question.
This temple is interesting because it is a replica of the katogike Church that was once built in Ani. This is the name of an Armenian city that appeared in the middle Ages, but on the land of modern Turkey.
Church Of The Holy Virgin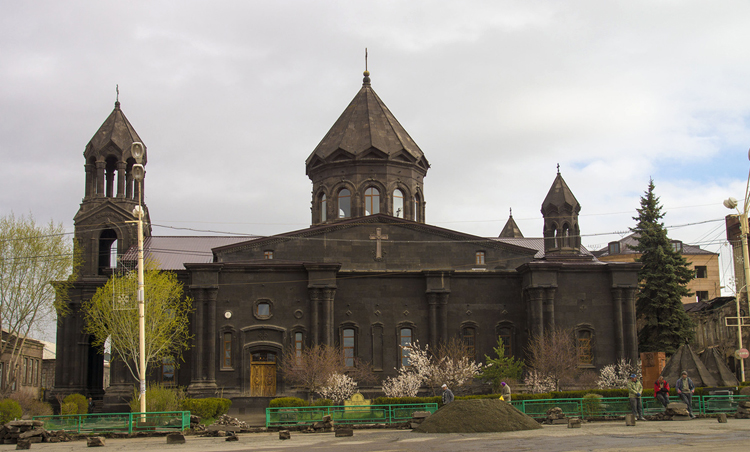 The Church of the Holy virgin belongs to the old religious buildings of the Armenian Gregorian Church. It was built in the XIX century. When the infamous Spitak earthquake occurred, this architectural monument, like many other structures in Gyumri, was severely destroyed. It is still recovering vigorously.
St. Hakob's Church
The new building is considered to be the Church of St. Hakob. This remarkable building was built as a tragic reminder of the people who died as a result of the devastating seismic activity of 1988 in the city of Gyumri.
Chapel of St. Michael the Archangel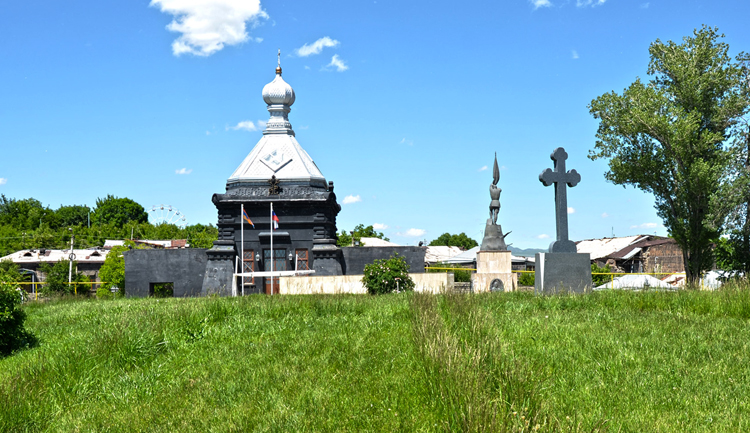 A chapel and a temple in one building named after St. Michael the Archangel are also located in Gyumri, within the ancient military cemetery «Hill of Honor». Here are the remains of soldiers who gave their lives during the Turkish-Russian war of the XIX century. The chapel was consecrated in 1886. This modest size, but original in terms of architectural execution chapel was updated in 2010-then the roof, doors, Windows were restored, and the old dome was replaced with a new one.
Marmashen Monastery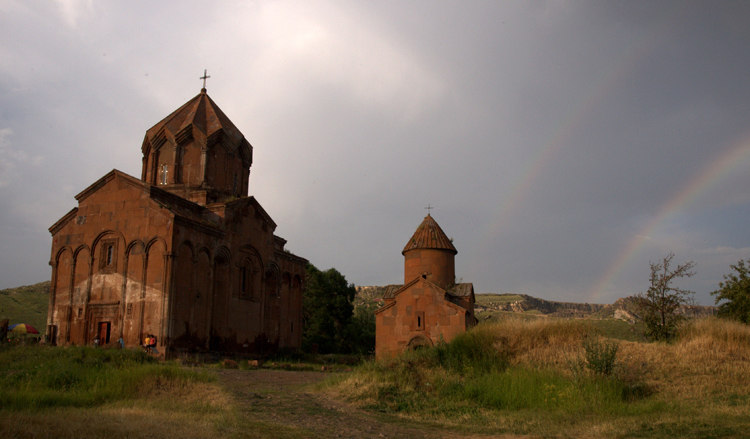 This monastery is a colorful example of Armenian architecture of the middle ages. This structure was created thanks to the plan of the ruler of Armenia Trdat.
Around this building you can find stelae made of stone with a cross in the middle (so-called khachkars), centuries-old structures that do not allow you to forget the memorable events of old times. A cemetery is located nearby.
Marmashen suffered more than once during bloody wars, but then was rebuilt by new owners. We can safely say that it has a fairly significant chronology of events. For example, in the 19th century, during the Russo-Turkish conflict, the monastery building was used as a parish school. Since 1870, a private educational institution has been operating there. Currently, the Marmashen monastery is in a deplorable state, because it was significantly destroyed due to the Spitak cataclysm.
Arichavank Monastery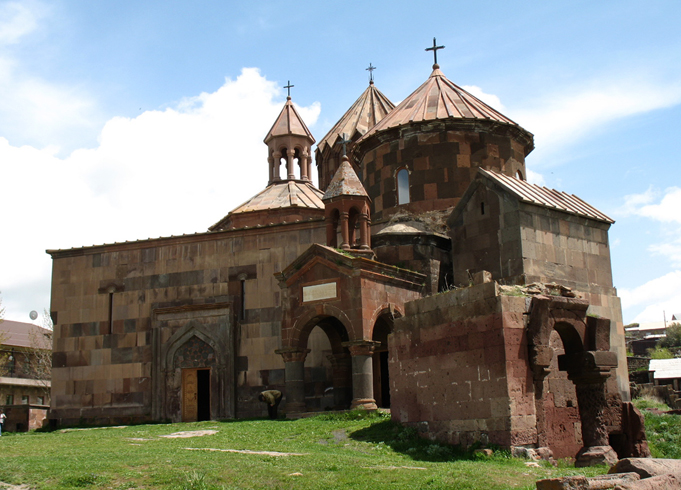 Arichavank monastery is one of the oldest monasteries in Armenia. It is one of the largest monasteries and is located not far (in the suburb of Artik) from Gyumri.
This monastery is a whole complex — it consists of two ancient churches and one gavit. It is considered that gavit belongs exclusively to the Armenian national architecture. Despite this, the monastery is not in high demand among visitors. The reason is that they think that this complex is located in an unremarkable place, where there is nothing attractive.
There is only one small shop in the neighborhood, and there are no hotels, restaurants, bars or anything like that. In addition, many tourists experience the inconvenience that it is extremely difficult to get to Arichavank.
Monument To Vardan Mamikonian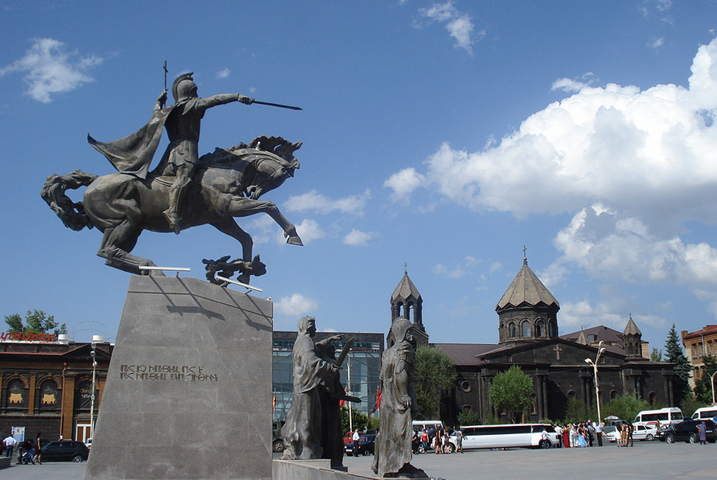 In front of the ancient Church of St. Gregory the Illuminator, an unshakable monument dedicated to Vardan Mamikonian stands on a pedestal. This hero gained fame in the distant fifth century. thanks to perseverance, courage and great strength. He was killed during the battle of Avaray during the Armenian-Persian war as a true fighter for his Homeland and Christianity. For this, Vardan enjoys universal veneration from grateful compatriots. Subsequently, he was ranked among the Armenian saints.
Monument to the victims of the Spitak earthquake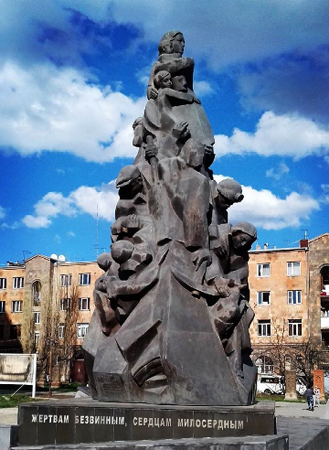 As a terrible reminder of the victims of the tragic 1988 Spitak earthquake, a memorial was erected in Gyumri. It stands on Freedom Square. A very long time has passed since that dark event, but the country has not been able to completely recover from that cataclysm. The city of Gyumri is still putting the structures destroyed by the disaster in order, although the city has not yet returned to its original appearance. There you can find many ruins, abandoned dwellings, even in the city center.
There are a lot of used and new vans in Gyumri. They are necessary as housing for citizens who have not been able to return to their homes. The memorial for the victims of the earthquake belongs to the important places of Gyumri itself and the entire Armenian state.
Monument To Charles Aznavour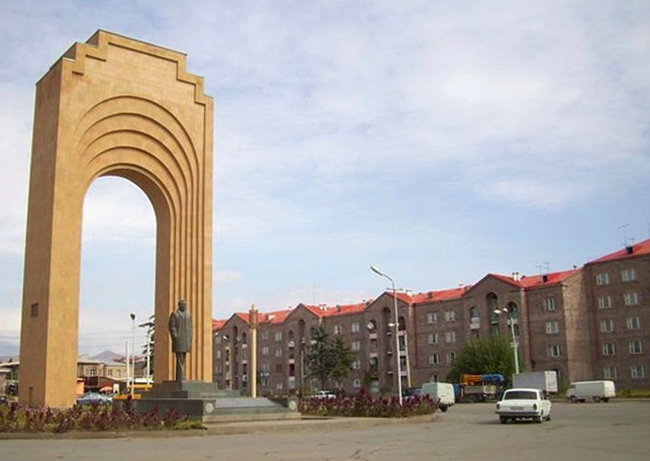 A statue of the outstanding composer Charles Aznavour is located in the square that bears his name. Aznavour's musical work is a great asset of the Armenian people. This artist first conquered sophisticated France with his beautiful music, and then the whole planet.
Mother Armenia Monument»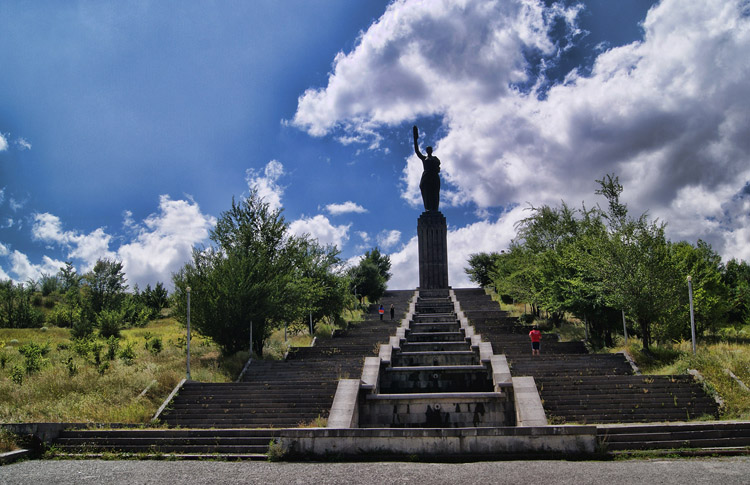 In front of the Black Fortress in 1975, a monument was built in Gyumri to mark the anniversary of the victory over fascism. It symbolizes the contribution of the Armenian people to the victory over the fascist invaders.
The location of the monument is a small hill in the city center, not far from Freedom Square. A very severe woman sculpture symbolizes the Motherland. She holds an ear of corn in one hand and a jar in the other. The sculpture is made of granite.
Gyumri city Park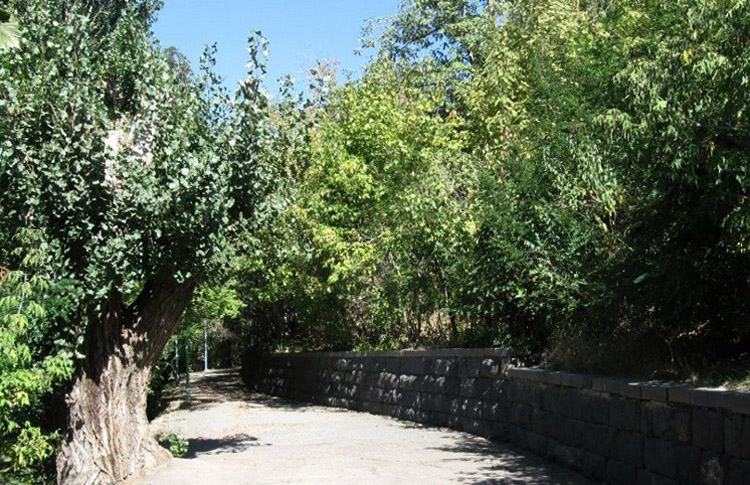 The Park in Gyumri is one of the favorite places of visitors and residents themselves. This Park, located in the center, deservedly enjoys the glory of having a relaxing territory.
Tourists there are willing to stop to recover their strength to travel further. At the same time, you can listen to good tunes, usually performed by young musicians. In addition, you can entertain children in the Park by riding them on a Ferris wheel. In the summer season, if desired, tourists rent ATVs. For the hungry, there is a friendly cafe in the Park area that serves national dishes.
Hotels in Gyumri
In the city, you can find many different options for cheap accommodation in hotels, small hotels or the private sector.
The best hotels are:
| | | | |
| --- | --- | --- | --- |
| Name of the hotel | Address | Prices | Services |
| Alexandrapol Palace | 70 Mayakovsky St. | 4-5 thousand rubles. | Excellent level of service and all necessary amenities |
| Nane Hotel | 1/5 Garegin Nzhdeh str. | from 5 thousand rubles. | 5 stars, high level of service |
| Berlin Art Hotel | 25 Akhtanaki Avenue | 3 thousand rubles. | 3 stars for a budget holiday, restaurant with excellent cuisine |
| Golden Apricot | Gorkogo str., 84/1 | from 1.4 thousand rubles. | Pets are welcome |
| Artush & Raisa guest house | 1/2 Aivazovsky St. | from 700 rubles. | Modest rooms with essential amenities. |
Places to eat in Gyumri
Armenian cuisine is very diverse in city cafes and restaurants at reasonable prices.
Circassian gorge
It is a recognized leader among fish restaurants, as it has its own fish farm. Fresh trout or sturgeon can be caught in front of the visitor and immediately cooked. During the waiting period, the client can enjoy a horse ride in the picturesque surroundings.
A very hearty lunch for 1 person without alcohol will cost about 500 rubles. The restaurant is located on Karmir Berda street. Open from 11 am to 11 PM.
Wine house
It offers a wide range of its own wines, excellent cuisine, a family friendly atmosphere and good music. Located on Gorky street 58/1.
Cafe Nancy
European cuisine is served in a cozy cafe on Gaya street, house 2. There is a special menu for vegetarians.There is a summer outdoor veranda. The average check per person without alcohol is 350 rubles.
How to navigate Gyumri
Public transport is provided by fixed-route taxis and electric trains. Trolleybus service has been discontinued as unnecessary. It is convenient to use a taxi in the city. prices for a trip within the city limits do not exceed AMD 1,000.
The sights of Gyumri, conveniently located within walking distance in the historical part of the city center, will adorn any tourist route and leave an unforgettable impression of the trip.